Reasons to Buy
This book covers the First 50 years of the Knoxville Nationals from 1961-2010. There is one chapter for each year, the finish of each years championship feature, statistics, and a complete list of drivers that has competed in the Nationals. It is a hard-bound book with 303 pages and over 200 photographs, including sections with color photos. For only $40 the book can be yours!
About the Authors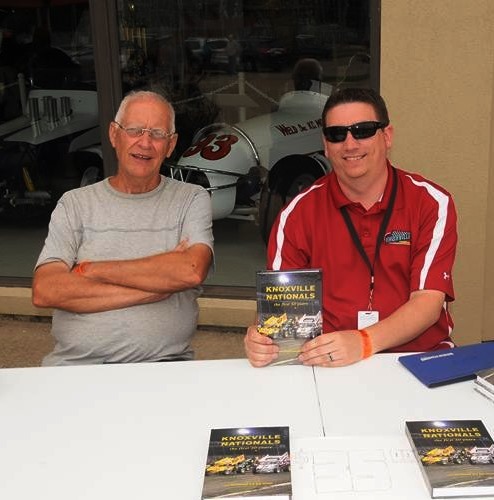 Bob Wilson & Eric Arnold
The books authors are a couple of geeks when it comes to the Knoxville Raceway and the Knoxville Nationals. Bob Wilson has seen every Knoxville Nationals and has been the track historian at Knoxville Raceway for decades. Bob worked for the track from 1983-2010 writing the official press releases and race results and was inducted into the Knoxville Raceway Hall of Fame in 2011 for his service. Bob wrote chapters 1961-1985. Eric Arnold has been going to the races at Knoxville Raceway since he was 3 years old in 1977 and has seen every Knoxville Nationals since 1981. Eric is also a Knoxville Raceway historian, is the track's Blogger and Social Media Commentator, and is a writer for Flat Out Magazine. Eric wrote chapters 1986-2010.
What Others Are Saying...
This is an important piece of history that needed to be recorded for the ages.

- Dave Argabright, six time National Sprint Car Poll Media Member of the Year award winner and author of several sprint car racing books
Download Free Sample
Not sold yet? Download the 1997 chapter for free! (PDF, 1.7 MB)